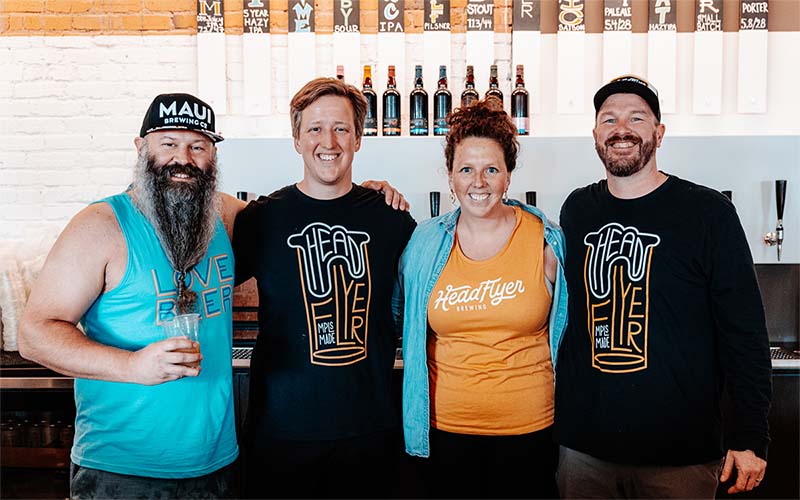 About Us
HeadFlyer Brewing was founded by Neil Miller, Amy Miller, Nate Larson and Austin Lee in April 2017. With a vision to create a variety of beer that will cater to every beer drinkers needs and a taproom that is warm, friendly and welcoming, the group found themselves in the Miller textile building in Northeast Minneapolis.
Head of Beer, Neil Miller, started as a homebrewer in 2008, eventually expanding into a custom built electric system. After attending the American Brewers' Guild program, he was ready to take his brewing to the next level. Amy Miller, Head of Operations has a long pedigree of successful small business owners and knew she wanted to someday do the same. They enlisted Nate Larson for his beard cred and Austin Lee for his witty personality and from there HeadFlyer was born.
The name HeadFlyer evolved from the name of a lake at the family cottage to our reason for being. To be a HeadFlyer is to boldly step outside your comfort zone, pursue possibility and take on the unknown.
As HeadFlyer continues to evolve you can find our beer at local restaurants and liquor stores. We are also actively becoming part of the community, hosting community events and raising money for causes that we are passionate about. Keep in touch with us or become part of our team or growing ambassador community.
HeadFlyer Brewing
861 E. Hennepin Ave.
Minneapolis, MN 55414
(612) 567 - 6345